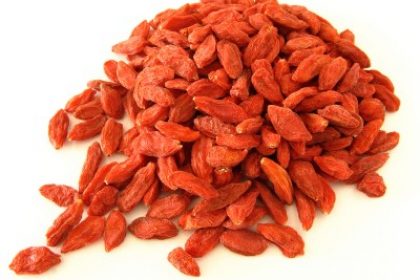 The goji berry, also called the wolfberry, is a bright orange-red berry that comes from a shrub that's native to China.  It have a mild tangy taste that is slightly sweet and sour. The whole, dried berries have a similar shape and chewy texture as raisins. Other names for goji berries are Lycium barbarum, wolfberry, gou qi zi, and Fructus lycii. In traditional Chinese medicine, goji berries are eaten raw, brewed into tea, added to Chinese soups, or made into liquid extracts.
In Asia, goji berries have been eaten for generations in the hope of living longer.  Over time, people have used goji berries to try to treat many common health problems like diabetes, high blood pressure, fever, and age-related eye problems. Goji berries are eaten raw, cooked, or dried (like raisins) and are used in herbal teas, juices, wines, and medicines.
Goji berry tea are available. The berries or juice can be used in smoothies.  Whole goji berries are also an ingredient in packaged snack foods such as goji berry trail mix.
1)  Eyesight
Goji berries are a source of zeaxanthin, an antioxidant that may protect the eyes from high-energy light waves such as the sun's ultraviolet rays (along with the carotenoid lutein). Studies suggest that zeaxanthin and lutein in the eyes are associated with better vision and decreased likelihood of cataracts and age-related macular degeneration. Although goji berries are a source, zeaxanthin is found in many vegetables including kale, spinach and broccoli.
2) General Health
In recent years, goji juice has become popular as a health beverage. Companies marketing goji juice often mention the folktale of a man named Li Qing Yuen who consumed goji berries daily and lived to be 252 years old. Some of the claims include:
protect the liver
improve sexual function and fertility
strengthen the legs
skin and hair health
boost immune function
improve circulation
promote weight loss
promote longevity
So far, scientific support for any of these claims is lacking. Although goji berries used in traditional Chinese medicine are typically in dried fruit form, goji juice is often costly (a 32-ounce bottle of goji juice can cost $50 USD).
3) Cancer
Several lab studies suggest that goji berry extracts may slow the growth of cancer cells and lower cholesterol levels. However, it is too soon to recommend goji berries in the treatment of cancer.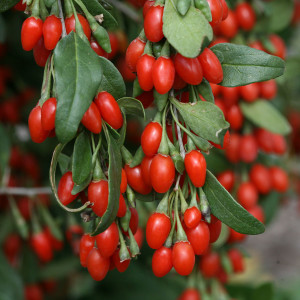 Caveats
Little is known about the safety of using goji supplements or consuming goji juice in the long-term. However, goji may lower blood sugar levels and increase the risk of bleeding and there is concern that goji may interact with diabetes medications and/or anticoagulant drugs (commonly called "blood-thinners"), such as warfarin (Coumadin). For example, a case report published in the journal Annals of Pharmacotherapy of a 61-year old woman who had an increased risk of bleeding, indicated by an elevated international normalized ratio (INR). She had been drinking 3-4 cups daily of goji berry tea. Her blood work returned to normal after discontinuing the goji berry tea.
As with other supplements, goji berry supplements haven't been tested for safety in pregnant women, nursing mothers, children, and those with medical conditions or who are taking medications.