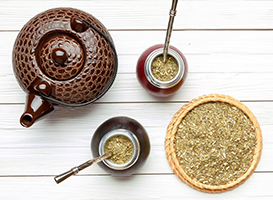 Think of your body as teapot on the stove, and think of the water inside as your belly fat. Chances are the pot is sitting there over a low flame, not doing much of anything. The water inside may be warm, but it's not boiling off. If you want the pot to whistle—and attract a few whistles yourself—you need to crank up the heat.
Well, that's exactly what will happen if you take that teapot from metaphor to reality. Tea—at least, certain types of tea—can rev up your calorie burn as quickly and easily as turning a stove from low to high. Tea can reset your internal thermometer to increase metabolism and weight loss, in some cases by up to 10 percent, without exercising or dieting or sitting in a sauna dreaming about a Nestea plunge.
GREEN TEA: TURNS FAT INTO ENERGY
Drink This: Longjing Green Tea
A cup of green tea cranks your metabolism up from Bach to Beyonce. In a recent 12-week study, participants who combined a daily habit of 4-5 cups of green tea each day with a 25-minute workout lost an average of two more pounds and more belly fat than the non tea-drinking exercisers. What makes it such a powerful metabolism booster? The brew contains catechins, a type of antioxidant that triggers the release of fat from fat cells and helps speed the liver's capacity for turning fat into energy. Just make sure you're drinking real green tea, not the bottled stuff with all the sugar.If you'd like to try green tea with fruit and flower aroma, check out our collection: Fruit & Flower Green Tea
OOLONG TEA: BURNS A POUND A WEEK
Drink This: Oolong Tea
This antioxidant-rich traditional Chinese drink not only helps keep cholesterol levels in check and aids digestion, it can also help rev up your metabolism. Like green tea, oolong is also packed with catechins, which boost weight loss efforts by improving the body's ability to metabolise fat. A six-week Chinese study found that participants who regularly sipped the brew lost a pound a week! If you'd like to see better result, try our slimming tea that mixes Oolong Tea with fine herbs such as lotus leaf, cassia seed, stevia etc.
YERBA MATÉ: MAKES YOUR WORKOUT WORK BETTER
Drink This: Detox Tea
This tea is known for its powerful thermogenic effects—meaning it turns up your body's calorie burning mechanism—and can also promote weight loss by improving insulin sensitivity. In a recent study, participants were divided into two groups. One group took a placebo 60 minutes prior to exercising, while the other group ingested 1000 mg capsule of yerba maté. Researchers found that those who consumed the herb increased the beneficial effects their workout had on their metabolism.
GOJI TEA: CRANKS UP CALORIE BURN BY 10%
Drink This: Stash, The Republic of Tea
Dried goji berries might be a staple of every health food store, but it's worth looking for them a couple aisles over in the tea section. Lycium barbarum, the plant from which gojis are harvested, is a traditional Asian medicinal therapy for diabetes and other diseases, but it also boasts a slimming effect. In a study published in the Journal of the American College of Nutrition, participants were either given a single dose of L. barbarum or a placebo after a meal. The researchers found that one hour after the dose, the goji group was burning calories at a rate 10 percent higher than the placebo group. The effects lasted up to 4 hours. Bonus: Most goji teas are mixed with green tea, further boosting your calorie burn.
KOLA NUT TEA: BOOSTS METABOLISM WITH A SINGLE CUP
Drink This: Celestial Seasonings, Yogi Vital Energy
Clocking in at caffeine counts higher than a cup of coffee, these teas are sure to zap any morning drowsiness–and set your metabolism up for a hotter burn. In a study published in the journal Physiology & Behavior, a 3-4 percent increase in metabolic rate was measured in both lean and obese subjects after a single 100 mg dose of caffeine. Look for teas made from this caffeine-containing fruit; if you want to skip the label-reading, just grab a box of Celestial Seasoning's Fast Lane, which clocks in 20 mg above your daily cup of coffee at 110 mg caffeine.
By eatthis.com
Edit by: LeCharm Tea