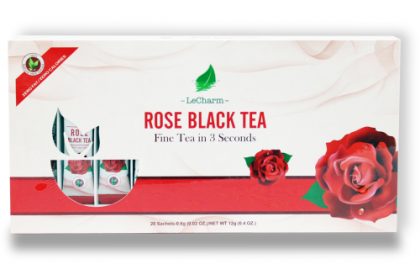 Roses "It has been used in traditional Chinese herbal medicine to treat conditions influenced by female hormones, including menopause and dysmenorrhea. No clinical trials to evaluate the effectiveness of rose tea have been done previously.  The girls in the tea group were instructed to drink 2 cups of rose tea every day from one week before the onset of their menses until the fifth day of their menses, a total of about 12 days per month, for six cycles. A cup of rose tea was prepared by steeping 6 dried rosebuds in 10 ounces of hot water for 10 minutes. Pain, distress, anxiety, perceived stress, and well-being were assessed using questionnaires given to all of the girls at the beginning of the study, and after one month, three months, and six months of treatment. Those drinking rose tea had significantly lower levels of menstrual pain, distress, anxiety, and perceived stress and higher sense of well-being than the control group after one month of treatment; well-being, pain, distress, and anxiety, continued to improve during the course of the study and were at their best after six months.
The Benefit of Rose Tea
These findings suggest that rose tea can be effective for relief of dysmenorrhea in adolescent girls. In this study, it specifically reduced pain and emotional symptoms and increased well-being. The benefits of drinking rose tea appear to be both immediate and cumulative, though how it works is still unknown. Further research is needed to confirm the results of this study and to determi ne the properties of rose that might account for its beneficial effects. "
Roses help to regulate menstruation, especially suitable for drinking before the menstrual period, reduce menstrual discomfort, and also improve the endocrine disorders.
Roses can also help to reduce the breast tenderness before menstrual period.
Roses can reduce the symptoms of cold hand and feet, fatigue, low blood pressure and improve fertility, balancing endocrine and detoxification.
Rose contains high amounts of vitamin C, a powerful antioxidant. This important vitamin can help protect skin cells from damage, such as from staying out in the sun too long. Some evidence even suggests that rose water can help prevent sunburn.
Rose tea also helps your body to deal with infection and help to reestablish the population of the normal bacterial of the intestines.
For beauty purposes, remove dart spots on the skin to increase the pore stability, to improve the oily skin to gain you a better looking skin.
Roses are good for protecting liver and stomach.
Rose Tea has the ability to cure the liver problems such as Sluggishness and constipation. It also cleans the bladder and the liver as it encourage the bile flow. Those are the proven result you can expect from Rose Tea.
Roses help to ease the mood and relieve depression.
Roses are proven to contain Vitamin C, Pectin, Malic and Citric Acids. Those ingredients have the ability to balance the mind. Women often easy to get ill –tempered before or during the menses,drinking some rose tea can regulate it. In a time that work and presses getting heavier today,even it's not during the menses,can drink some rose tea to placate and cool mood.