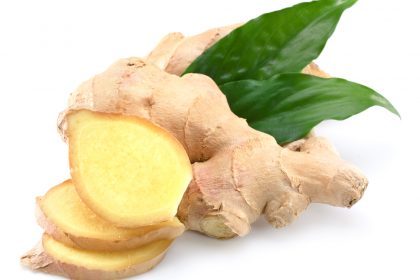 Ginger is an herb. The rhizome (underground stem) is used as a spice and also as a medicine. It can be used fresh, dried and powdered, or as a juice or oil.
According to the National Library of Medicine1, part of the NIH (National Institutes of Health), ginger is widely used throughout the world for treating various types of "stomach problems," including motion sickness, morning sickness, colic,  flatulence, stomach upset, upset stomach, gas, diarrhea, nausea caused by cancer treatment, nausea and vomiting after surgery, as well as loss of appetite.
Other uses include pain relief from arthritis or muscle soreness, menstrual pain, upper respiratory tract infections, cough, and bronchitis. Ginger is also sometimes used for chest pain, low back pain, and stomach pain.
Some people pour the fresh juice on their skin to treat burns. The oil made from ginger is sometimes applied to the skin to relieve pain.
In foods and beverages, ginger is used as a flavoring agent.
In manufacturing, ginger is used as for fragrance in soaps and cosmetics.
One of the chemicals in ginger is also used as an ingredient in laxative, anti-gas, and antacid medications.
How does it work?
Ginger contains chemicals that may reduce nausea and inflammation. Researchers believe the chemicals work primarily in the stomach and intestines, but they may also work in the brain and nervous system to control nausea.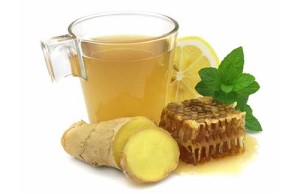 Possibly Effective for:
Nausea and vomiting following surgery. Most clinical research shows that taking 1 gram of ginger one hour before surgery seems to reduce nausea and vomiting during the first 24 hours after surgery. One study found ginger reduced nausea and vomiting by 38%. Also, applying ginger oil to patients' wrists before surgery seems to prevent nausea in about 80% of patients. However, ginger might not reduce nausea and vomiting in the period 3-6 hours after surgery.
Dizziness. Taking ginger seems to reduce the symptoms of dizziness, including nausea.
Menstrual pain. Some research shows that ginger can reduce symptoms of menstrual pain in some women when taken during menstruation. One study shows that taking a specific ginger extract (Zintoma, Goldaru) 250 mg four times daily for 3 days at the beginning of the menstrual period reduces pain symptoms in as many as 62% of people. It seems to work about as well as the medications ibuprofen or mefenamic acid.
Arthritis. Some research shows that taking ginger can modestly reduce pain in some people with a form of arthritis called "osteoarthritis." One study shows that taking a specific ginger extract (Zintona EC) 250 mg four times daily reduced arthritis pain in the knee after 3 months of treatment. Another study shows that using a different ginger extract (Eurovita Extract 77; EV ext-77), which combines a ginger with alpinia also reduces pain upon standing, pain after walking, and stiffness. Some research has compared ginger to medications such as ibuprofen. In one study, a specific ginger extract (Eurovita Extract 33; EV ext-33) did not work as well as taking ibuprofen 400 mg three times daily for reducing arthritis pain. But in another study, taking ginger extract 500 mg twice daily worked about as well as ibuprofen 400 mg three times daily for hip and knee pain related to arthritis. In another study, a specific ginger extract combined with glucosamine (Zinaxin glucosamine, EV ext-35) worked as well as the anti-inflamatory medication diclofenac slow release 100 mg daily plus glucosamine sulfate 1 gram daily. Research also suggests that massage therapy using an oil containing ginger and orange seems to reduce short-term stiffness and pain in people with knee pain.
Preventing morning sickness (discuss the possible risks with your healthcare provider). Ginger seems to reduce nausea and vomiting in some pregnant women. But taking any herb or medication during pregnancy is a big decision. Before taking ginger, be sure to discuss the possible risks with your healthcare provider.
Possibly Ineffective for:
Preventing motion sickness and seasickness. Some people say they feel better after taking ginger before travel, but research findings have been inconsistent. Some research shows no benefit for reducing symptoms of motion sickness or seasickness. However, one study suggests that ginger is more effective than dimenhydrinate, an anti-nausea drug, at reducing stomach related to motion sickness. Another study suggests that taking 1-2 grams of ginger increases the time before nausea starts and reduces the severity of nausea.
Weight loss. Research suggests that taking a supplement containing ginger, rhubarb, astragalus, red sage, turmeric, and gallic acid (Number Ten) daily for 8 weeks does not increase weight loss or reduce body weight in people who are overweight.
Insufficient Evidence for:
Sudden respiratory system failure (Acute respiratory distress syndrome). Research suggests that administering 120 mg of ginger extract daily for 21 days increases the number of days without ventilator support, the amount of nutrients consumed, and reduces the time spent in intensive care units in people with sudden respiratory system a failure. However, ginger extract does not seem to affect death rates in people with this condition.
Alcohol hangover. Early research suggests that taking a combination of ginger, pith of Citrus tangerine, and brown sugar before drinking decreases symptoms of alcohol hangovers, including nausea, vomiting, and diarrhea.
Nausea and vomiting due to chemotherapy. There is contradictory evidence about the effectiveness of ginger for nausea and vomiting caused by chemotherapy for cancer. Some evidence suggests that taking ginger by mouth might help reduce nausea caused by chemotherapy. However, other evidence suggests that adding ginger is no more effective than standard anti-nausea treatments alone.
Upset stomach (dyspepsia). Evidence suggests that taking a single dose of 1.2 grams of ginger root powder 1 hour before eating speeds up how quickly food empties out of the some in people with dyspepsia.
High cholesterol. Evidence suggests that taking 1 gram ginger capsules three times daily for 45 days lowers triglyceride and cholesterol levels in people with high cholesterol.
Speeding up labor. Early evidence suggests that bathing in water containing ginger oil does not shorten the length of labor.
Migraine headache. Evidence suggests that taking a combination of ginger and feverfew might reduce the length and intensity of migraine pain. However, it is not clear if the effects are from ginger, feverfew or the combination.
Muscle pain after exercise. There is contradictory evidence about whether ginger helps for muscle pain caused by exercise.
Recovery after surgery. Evidence suggests that inhaling and applying a combination of lavender and ginger oils to the skin before surgery does not reduce distress in children after surgery.
Rheumatoid arthritis (RA). There is some early evidence that ginger might be helpful for decreasing joint pain in people with RA.
Trouble swallowing. Evidence suggests that spraying a product containing ginger and clematix root (Tongyan) to the back of the throat improves trouble swallowing in stroke victims. However, it is not beneficial in people with less severe problems swallowing.
Loss of appetite.
Colds.
Flu.
Other conditions.
More evidence is needed to rate ginger for these uses.