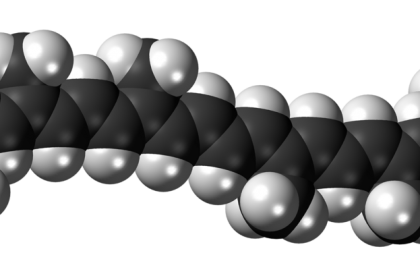 Goji berries are a source of zeaxanthin, an antioxidant that may protect the eyes from high-energy light waves such as the sun's ultraviolet rays (along with the carotenoid lutein)
Zeaxanthin is one of the most common carotenoid alcohols found in nature. It is important in the xanthophyll cycle. Synthesized in plants and some micro-organisms, it is the pigment that gives paprika (made from bell peppers), corn, saffron, wolfberries, and many other plants and microbes their characteristic color.[1][2]
The name (pronounced zee-uh-zan'-thin) is derived from Zea mays (common yellow maize corn, in which zeaxanthin provides the primary yellow pigment), plus xanthos, the Greek word for "yellow" (see xanthophyll).
Xanthophylls such as zeaxanthin are found in highest quantity in the leaves of most green plants, where they act to modulate light energy and perhaps serve as a non-photochemical quenching agent to deal with triplet chlorophyll (an excited form of chlorophyll) which is overproduced at high light levels during photosynthesis.
Animals derive zeaxanthin from a plant diet.[2] Zeaxanthin is one of the two primary xanthophyll carotenoids contained within the retina of the eye. Within the central macula, zeaxanthin is the dominant component, whereas in the peripheral retina, lutein predominates.
Zeaxanthin supplements are typically taken on the supposition of supporting eye health. Although there are no reported side effects from taking zeaxanthin supplements, this possible benefit remains scientifically unproven, despite extensive ongoing research to define dietary or supplemental effects of zeaxanthin and lutein.[3][4][5]
As a food additive, zeaxanthin is a food dye with E number E161h.
CR: Wiki