Description
Net Weight: 4.8oz/135g
This high grade Jasmine Pearl Tea harvested in the southern area of Fujian province in China. The tea is hand-picked in the early spring, and dried in the sun naturally for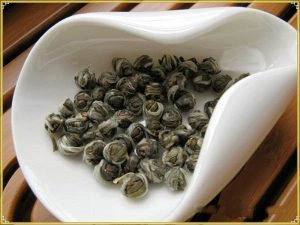 the light scented of Jasmine can leave in the dried petal and shaped into the "pearls".
Jasmine is unique with its flavor. As a floral taste tea, while being infused with hot water, the fragrance of Jasmine Pearls blend into water and air immediately. Later, the pearl slowly unfurl into long needle shape for releasing more naturally wonderful aroma.
When tasting the jasmine pearl tea,  drinkers can feel as walking in the garden with fresh air, the organic and natural taste can help them to relax and keep head clear for the rest of day.
How to brew a cup of Jasmine Pearl tea
Bring fresh water to a rolling boil and pour into tea cup. Add 2.5g white peony to the water. Brew 3 to 5 minutes or to desired strength for optimal taste. Sweeten to taste with honey or sugar.
Save
Save
Save
Save