Description
Net Weight: 1.75oz/50g
Huang Shan Mao Feng is one of the most ten famous and expensive green tea in China. For guaranteeing the quality of tea leaves, the tea bushes are harvested in small villages, where is far away from the pollution in industrial cities. As the fresh tea leaves being plucked, for keeping the 100% naturally and organic taste inside of the tea leaves.  our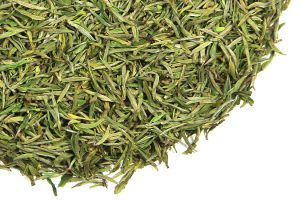 premium Huang Shan Mao Feng completely goes through hand processing by traditional craft, which is passed by generations start from 240 years ago.
The fragrance start to spread as the tin is opened. As the tea infusing with hot water, the natural fragrance will become much stronger. Different from usual green tea, the Huang Shan Mao Feng has no bitterness when you take the first sip, but the lightly sweetness in mouth will last longer time.
As 100% natural green tea, Huang Shan Mao Feng not only can help drinkers feel free of stress, but also can lift drinkers' spirits and offer a positive feeling to support drinkers to face any difficulties in the rest of day.
How to brew Huang Shan Mao Feng
Like all green tea, Huang Shan Mao Feng should be brewed in clean, mineral free water. Bring fresh water to a rolling boil and pour into tea cup. Add 2.5g white peony to the water. Brew 3 to 5 minutes or to desired strength for optimal taste. Sweeten to taste with honey or sugar.
Save
Save
Save